Telescopic Tools Combine the Benefits of Doing More With Less and Working in Greater Comfort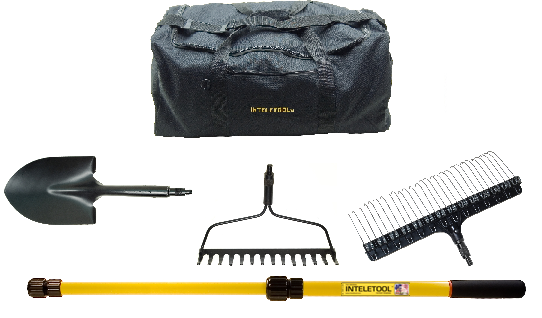 A great example of smart, new designs that combine the value and convenience and ease of use are lawn and garden tools with telescoping handles for height adjusting comfort and interchangeable heads so one tool does it all. These tools save space, cut down on waste and expense, and they allow for the user to do many more jobs than the traditional collection of many rakes, shovels, trimmers, etc. They also allow different users to adjust the handle length to fit their individual height perfectly.
Another ease of use aspect of telescopic lawn and garden tools with interchangeable heads is the spacing benefits. When one adjustable handle can be affixed to several different tool heads, than the amount of space saved from not having to store several different shovels, rakes, pruners, etc. can be substantial.
Four Benefits of Telescopic Tools with Interchangeable Heads
Cost Savings. Investing in a highly durable tool that has many uses, yet does not require purchasing several additional tools saves money.
Ergonomic Comfort. Because a telescopic lawn and garden tool can be length adjusted, different users can adjust the handle to fit their height. You know this is great if you have ever worked with a shovel or a rake that was too short for your body height. Trust me, your lower back will thank you.
Space Savings. As mentioned above, storing only the interchangeable heads with a single handle makes storage easier and less space consuming. These days with garages being used for storing kids' bikes, sleds, sporting gear and every other toy Americans love to have, it's nice to save space for tools (and maybe even your automobile!)
Ease of Use. Taking along a single tool with multiple interchangeable heads is easier than taking along several different tools you would need, otherwise. Some of these multi-use tools even come with a backpack-style storage bag that allows transporting your tools fast and easy.
In closing, when you are searching for telescopic tools, look for solid construction that will be durable, quality moving pieces that lock that handle segments securely, and professional grade material in both the handle and in the interchangeable tool heads. A tool is only as good as it lasts. Compromising on these things to save money may hurt you in the end.


Article Source: http://EzineArticles.com/3269755
---