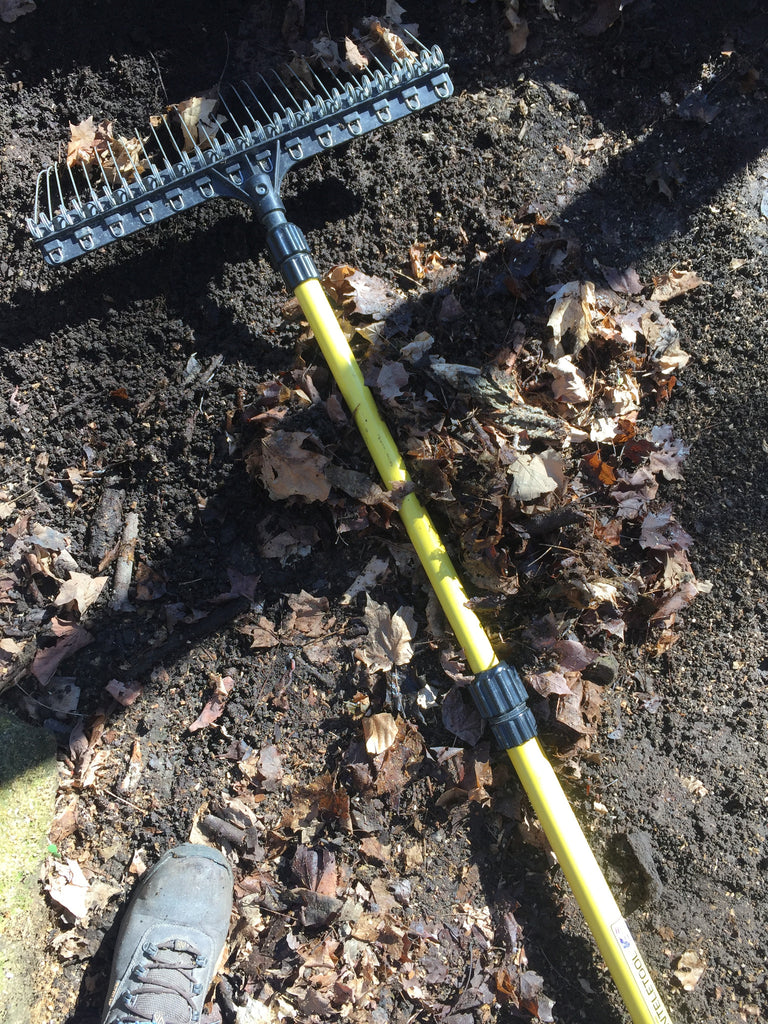 THE GARDEN TOOL SOLUTION
Problem-
       Men and women throughout the centuries have used garden and maintenance tools to feed their families and take care of their property. They usually built them themselves out of whatever material they had on hand which made for interesting creations. A stick may serve as a hole maker to drop a seed into or attach a cross piece to the same stick and then attach smaller sticks to that cross piece and you have a rake.  No matter the need, they improvised and came up with some kind of tool to meet the need. If you had to sweep up dirt off your floor and you didn't have a Lowes or Home Depot around, what would you do? Up until a hundred years ago or so, people made their own out of a stick and straw. These simple brooms worked well since nothing else existed at the time.  No vacuum sweepers or central vacuum systems for pioneer women.
        As the industrial revolution took over, machinery for making more advanced tools made it easier to invent tools with more specific purpose. Using stronger material and manmade, brought about steel tool heads like the round point shovel and broom bristles with synthetic bristles. Wood handles paved the way for steel and fiberglass. Needless to say there are many garden and maintenance tools on the market today to choose from but there are still people groups in the world that use sticks for seed planting such as the Mayans of Belize in Central America but that practice has in general long faded from  world view.
        An issue that all long handled tools have is that they are difficult to transport. Trying to carry a shovel, rake and broom together somewhere normally ends up with some frustration involved unless you built some kind of rack. Most people don't take tools anywhere due to this fact.
Solution-
 Inteletool has made the next step in the world of tools by adding the elements of interchangeable heads and telescopic handles to Garden and maintenance tools. Now those same 3 tools; shovel, rake and broom  heads  and one  handle can be stored in a duffel bag 24"x12"x12". Inteletool opens the door for garden and maintenance tools to be taken or stored anywhere.
What is Inteletool and what can it do?
The world's first Interchangeable Telescopic garden, maintenance firefighting tool.
Designed for ease of storage and transport.
Built Tough.
Easily transports in any vehicle, or by any means human or animal.
Stores in any compartment 30" or longer.
Combine any Inteletool tool head with any size Inteletool telescopic pole for a variety of indoor and outdoor jobs.
The tool heads interchange and the telescopic poles collapse using Inteletool's unique system or shorten the Inteletool telescopic pole and transport as a smaller tool.
Stores and transports well in one of Inteletool's Duffel bags or Backpack.
What are Inteletool's applications?
Firefighting
Gardening
Hunting
off road (4x4 and ATV)
disaster clean up
military
maintenance (building and ground)
camping (RV and tent)
backpacking and more…                      
 What are Inteletool's advantages?
Any Inteletool tool head easily attaches onto any rubber gripped or D-Handled Inteletool telescopic pole using our unique acme thread connection creating a secure permanent feel. The tool head will not come off while in use. When another tool head is needed, simply detach the one not needed and attach the new one.
The Inteletool telescopic pole is the strongest in the world and can be adjusted to any length. There are no pins or designated points of adjustment.
The best thing about Inteletool is that each tool can be taken apart and put into a duffelbag or backpack and be either carried or stored anywhere! It's the most compact yet fullsize multi tool system in the world. Inteletool has the most versatile line of garden, maintenance and fire tools I've ever seen!
Another great feature of Inteletool is that you can choose any number of tool heads and telescopic poles and either a duffel bag or backpack and build your own ultimate toolkit.
Now you don't need to clutter up your garage walls or shop with all those tools. Build your own kit or buy one from our selection and put it on your shelf!
Inteletool is Made in the USA,  family owned and operated and we provide personal service with excellence.
Inteletool is ergonomically correct in design and can be adjusted to any length depending on the height of the user or the application.
---