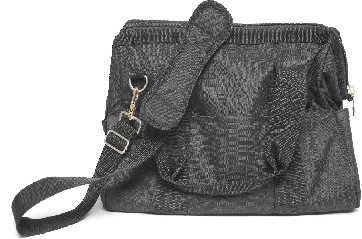 Small Tool Head Duffel Bag 20x10x4
$ 62.99
SKU:
Built tough to Industrial standards, currently in use by Military and Government agencies, Businesses, Firefighters, Tradesmen and Trailblazers. 
Black Nylon 840 Denier duffel bag- designed to take abuse of carrying tools into the field there and back again- Strong enough to take a beating
Space saver, great for trunk, shelf or storage compartment in your home, vehicle (RV,4x4) place of business or on an ATV, search and rescue vehicle or fire truck
Great customer service! Email us at info@inteletool.com or call 330-886-TOOL (8665) with any questions
Special Feature: Designed to be a part of your own custom built tool kit by Inteletool.
Cost Saver Idea! The way to bring the cost of Inteletool down is to buy multiple tool heads and a few handles. The cost per tool comes down exponentially. Ex. if you buy 6 heads and 2 handles the avg. cost is $370.00 spread out over 6 tool options available to you = $60 per tool.
About the bag: This duffel bag does not include any contents. Low Capacity Waterproof Black Duffel Bag with rigid bottom. Comes with shoulder strap. Large zippered opening for full access. Size: 20Lx4Wx10H. Material: Black 840 denier Nylon. Application: Store and carry all Inteletool Structure Firefighting tool heads- IUSAH, INYH, IDWH, IRH conveniently in this small but powerful bag. Or will also instead fit the ILP, ISW, IS, IHO garden tool heads. Featured in the firefighting ITK tool kit. Use as the small tool head carry case for your own larger tool kit.